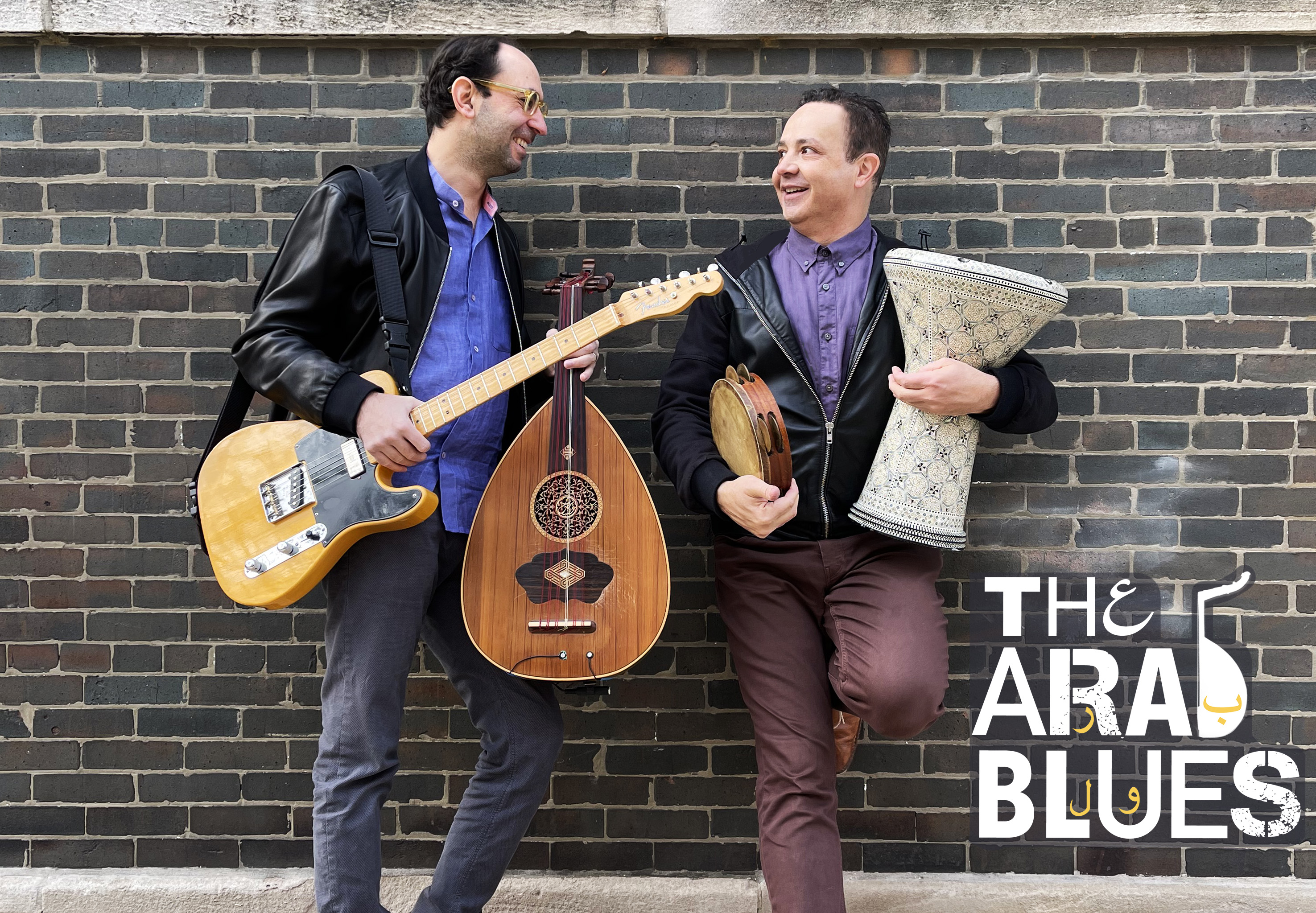 Rami Gabriel (Lebanon/Chicago) and Karim Nagi (Egypt/Chicago) create a dynamic and unique amalgam of traditional Arabic music and Chicago Blues. The Oud, Buzuq, Tublah and Riqq are used along with Guitar and Drum Set to create a sound that could have only been imagined in America. Karim & Rami express their tradition and identity through compositions and improvisational excursions that draw from their two traditions.
The Arab Blues with Rami Gabriel & Karim Nagi with Special Guests! 
Sunday December 10th, 2023 
8pm (7:30 doors)
 Jalopy Theatre - 315 Columbia Street, Brooklyn, NY 112311 
$25 ($20 Advance) 
https://www.viewcy.com/e/brooklyn_maqam_presen_21
The Arab Blues traces an innovative trajectory between the call of tradition and the response of the diaspora. The synthesis Rami and Karim create is an auditory expression of not only the power and persistence of il Turath but equally the validity of transformations under the unique cultural conditions we inhabit.
The basis of our work is the canon of classical Middle Eastern compositions and improvisational techniques. This rich heritage consists of melodic and rhythmic exposition and instrumental interaction at countless levels of depth. We interpret these forms in the context of the sounds of the contemporary North American metropole. In this project, the equally lush traditions of Blues and Jazz in Chicago provide the context of how we approach and assimilate the Turath. This marriage of forms is fruitful because of the emotional range of the Blues and the improvisational flexibility and ingenuity of Jazz.
The Arab Blues was developed by Lebanese-Egyptian oud, buzuq, and guitar player Rami Gabriel through a research fellowship at the Center for Black Music Research, two Illinois artist grants, and a decade of experience as a jazz and blues musician in Chicago. Native Egyptian, Chicago based percussionist Karim Nagi is a two-time beneficiary of the Doris Duke Build Bridges grant for Muslim artists, a TEDx speaker, and accomplished teacher who plays traditional and non-traditional Middle Eastern percussion instruments including Riqq, Tublah, and uniquely assembled drumset.